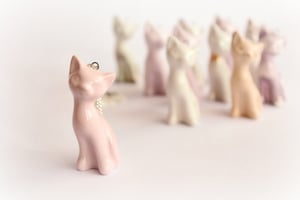 £

25.00
by Jasmin Blanc
...she padded into the room and jumped onto the dresser, the crockery tinkled as she wound her way around the the towers of porcelain...
How darling are these delicate ceramic kittens?
Handmade in London town, these pendants are made in a fine lined kitten shape, worked in ceramic and fired 3 times. They are then glazed and decorated, and hang on a silver plated chain with a lobster clasp.
Although ceramics are water-resistant, it is best not to submerge them in water or wear them while showering. Please handle with care.
Please view the second picture to see the colours we have available. If you would like a different colour, or would like a custom version of your own cat, then please get in touch using the Contact section down on the right.
Please also let us know if you would like it to be sent to you gift-boxed!
Kitten Size: 4.5cm
Chain Length: 70cm